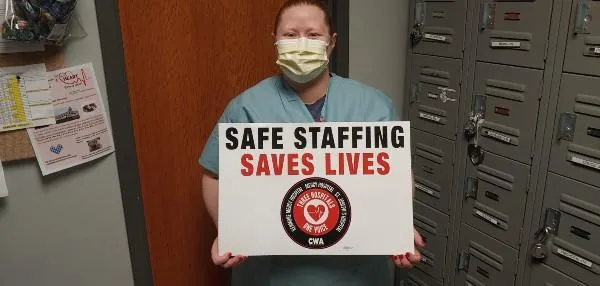 Healthcare workers at Catholic Health Hospitals in Western New York - including Mercy, St. Josephs, and Kenmore - are fighting for patient and worker safety during an unprecedented crisis.
We have spent the past 18 months tackling the COVID-19 pandemic, working longer hours and harder than ever before - but the problems of understaffing began long before March of 2020, and will continue beyond this current crisis. COVID-19 has simply made it more starkly clear than ever: when healthcare workers must care for more patients than they can safely handle, both patients and workers are at risk.
But Catholic Health is using the pandemic as an opportunity to cut our staffing, resources, and worker benefits to the bone. Healthcare workers repeatedly work short across the three hospitals. Housekeepers have double the rooms to clean. Nurses and aides are seeing assaults on the rise, without enough staff to respond.
Enough is enough.
CWA members at Mercy, St. Josephs, and Kenmore Hospitals are fighting to turn the lessons of the COVID-19 crisis into meaningful change that will improve patient care and the overall health and strength of our communities. The healthcare heroes that carried Western New York through this crisis deserve more than just nice words of appreciation - we demand:
Safe staffing ratios
No concessions
Competitive wages to recruit and retain staff
A master contract to unite workers at three hospitals and raise standards