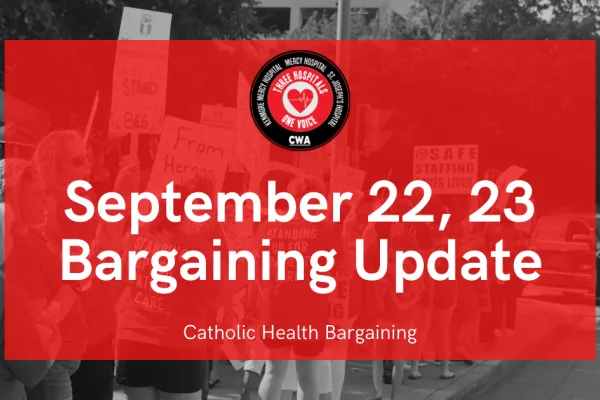 On Wednesday the CWA bargaining committee was excited to have four of our Local politicians come to the bargaining table in support of our members in Catholic Health. We welcomed:
NYS Senator Sean Ryan
NYS Assembly Member Pat Burke
Erie County Legislative Chairwoman April Baskin
Buffalo Common Council Member Chris Scanlon
After spending some time with the bargaining committee members, we invited Catholic Health into a joint session. Each of the elected representatives spoke passionately about their concern over the current state of negotiations and their support of our membership. Each declared unequivocally that if a strike occurred, they would be on the side of striking members.
On Thursday, we spent most of our time working on Side Table Items at Mercy, Kenmore Mercy and St. Joe's. We actually made a lot of progress on non-economic side table items. We will put out a comprehensive update this weekend on the side table items we have made progress on.
Despite the lies and misinformation that Catholic Health is spreading to you and the general public, it is clear to us that once people understand the issues, they are squarely in our corner.
The bargaining committee is on our 12th straight day of negotiations and we will be working straight through the weekend. The CWA bargaining committee is completely committed to working to negotiate the best agreement we can on behalf of our members. If Catholic Health will not negotiate a fair agreement, you have made it clear to us that you are prepared to go on strike October 1, 2021.
We will keep you posted on our progress each day, especially if there is any movement on our core issues of Wages, Staffing and Health Insurance.