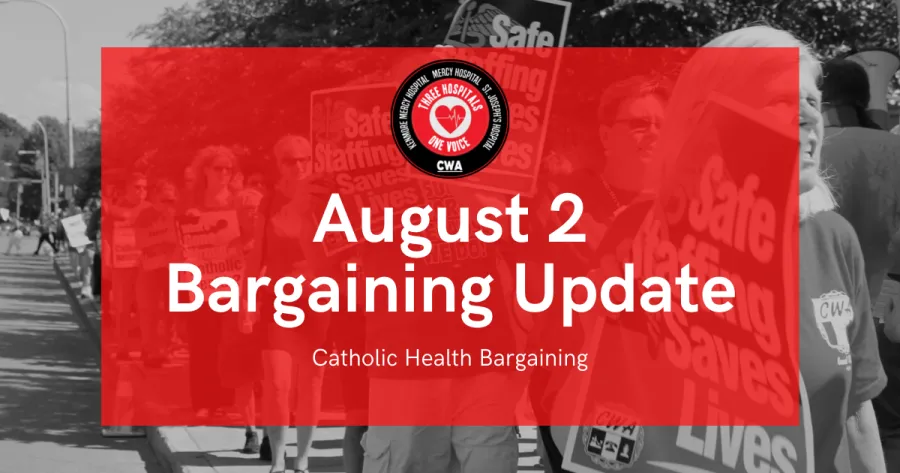 Click here to download a PDF copy.
Tuesday, July 27 and Wednesday July 28 were bargaining days for the CWA bargaining committee. We spent much of those two days in caucus as we prepared a number of counterproposals to present to Catholic Health including our staffing proposal.
On Wednesday we did receive an economic package proposal from Catholic Health which re-emphasized the draconian cuts they want to make to our contract.
Overtime: Catholic Health is proposing mandatory overtime for all employees except for nurses and that's only because it's against the law to require nurses to stay beyond the end of their shift.

Paid Time Off: Right now, PTO is accrued for all hours paid for by the Employer. Catholic Health is proposing that PTO only be accrued for time an employee is being paid or is taking PTO. They are proposing to delete unscheduled PTO and any paid sick leave.

Dental Insurance: We have received a proposal that would reduce the amount of coverage for Restorative work and Oral Surgery from 75% down to 50%.

Sick Leave Pay (Extended Sick Leave): Catholic Health has made a real mess of our long-term sick benefit in an effort to incorporate the New York State Paid Sick Leave legislation. They are refusing to comply with the law as it relates to the usage of the time and they want to freeze your long term sick bank.

Retirement Plan: The proposal from Catholic Health on retirement is to freeze all existing plans and create a new 403 (b) plan. The new plan would result in a lower pension benefit for everyone.

MOU Retirement Plan: Since we learned years ago about the severe underfunding of the Retirement Plan of the Catholic Health System, we have been negotiating a dollar amount to be paid to the plan. That amount has been $33 million dollars a year. Catholic Health is refusing to commit to a dollar amount to fund the plan.

Health Insurance Coverage: We have received a proposal on health coverage that would increase the premium that full-timers pay to 30% of the cost and to 50% of the cost for part-timers. This would increase the premiums for full-timers by $2,300 to $4,700 dollars per year! For part-timers coverage would become unaffordable.

Catholic Health is also proposing that by 2023, all employees will be covered by a high deductible health plan. The monthly premiums may be lower but the out of pocket deductibles go way up.

Prescription Coverage: Prescription drug out of pocket co-pays would all go up.

Wages: The biggest insult of all is that Catholic Health is proposing a 1% across the board increase. All of which will be eaten up by the proposed concessions.
Under this proposal from Catholic Health, every person that works will end up taking home less money, especially if you take the health insurance benefit.