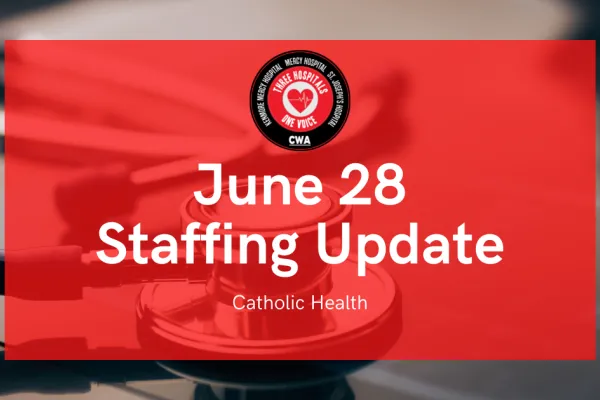 Assaults on the Rise at CHS
Mercy caregivers are reporting multiple assaults across the hospital that put both patients and caregivers in danger.
Complaints include:
Injuries to hospital workers including torn ligaments.
Wait times as long as 10 minutes for security to arrive and assist nurses and aides caring for altered status patients lashing out.
Being short or even skeletal staffed in departments prone to violent outbursts
While CHS hospital management is pushing concessions to our benefits and healthcare and failing to address the staffing crisis, we are demanding staffing ratios and competitive pay to recruit and retain staff and provide the best patient care possible.
Because we are in the early stages of economic bargaining, our contract automatically extends for 3 months until September 30. Stay tuned for more bargaining and union updates!
If you have safety concerns in your department, reach out to your executive board member or call your union office, CWA 1168 (716) 639-1168 or CWA 1133  (716) 828-1133.