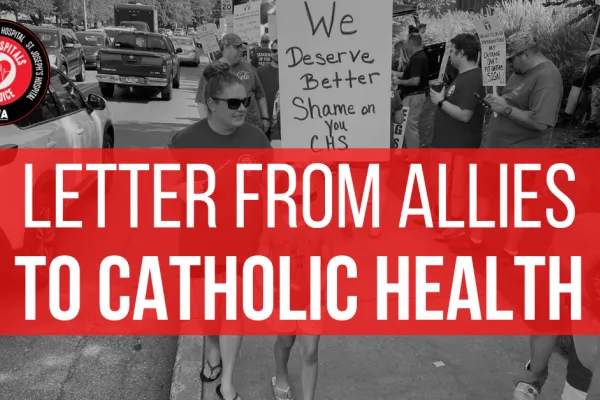 Click here to download a PDF copy.
For the past 18 months, our healthcare workers have been heroes, bravely risking their lives to protect their fellow New Yorkers during the deadly COVID-19 pandemic. Their selflessness during the darkest days inspired the entire nation, and we all owe them a significant debt of gratitude. 
Yet we know this was an extraordinarily challenging and traumatic time for our frontline workers, as they saw countless patients and coworkers succumb to this deadly virus. They feared for their own lives -- and that of their family at home -- as they worked without the proper personal protective equipment at the height of the first wave. And as the Delta variant surges across our state they are exhausted, forced to relive these same experiences. 
It is one thing to just call our healthcare workers heroes, and it's another to treat them as such. That is why we are deeply troubled about persistent alarming stories about unacceptable conditions from Catholic Health nurses and other workers, who have reported: 
Unsanitary and inadequate conditions, including overflowing trash receptacles and broken infrastructure 

Lack of necessary supplies such as wash clothes, linens, EKG leads, gauze and gloves

Overworked staff who do not even have time to take a lunch break 

Hundreds of vacant positions

All of this of course jeopardizes patient care, which is especially problematic as our state grapples with the spread of the dangerous Delta variant. 
We know that nationwide, healthcare workers are leaving their jobs in droves because of burnout and lack of support. Our hospitals have not been immune from these systemic issues, and Catholic Health must address them in the new collective bargaining agreement with the Communications Workers of America. That means any new contract must provide adequate wages and benefits to both retain and attract a workforce that is under strain. 
We are disappointed to hear that your initial offer includes a significant cut in wages and benefits after taking into account inflation and increased employee healthcare cost sharing. We also question why you are spending millions on a new facility when there are chronic staffing issues and substandard conditions at your current hospitals. This contract may make it harder to attract talent, exacerbating the long-term staffing problems. 
The pandemic showed just how indebted we are to our healthcare workers, and the essential role they play in keeping all of us safe and healthy. We must do everything possible to raise the quality of patient care and improve patient outcomes, which is why the refusal of Catholic Health to negotiate a contract that tackles these essential issues is so unacceptable. 
We urge you to put forward a fair contract proposal that supports your workers and protects patients. 
Sincerely, 
1199SEIU United Healthcare Workers East
American Federation of State, County and Municipal Employees, Council 66 
American Federation of State, County and Municipal Employees, Council 35
ALIGN - Alliance for a Greater New York 
Buffalo Federation of Teachers
Catholic Scholars for Worker Justice
Clean Air Coalition of WNY
Coalition for Economic Justice
Citizen Action of New York
Democratic Socialists of America, Buffalo chapter
Graduate Student Employee Union, University at Buffalo
International Alliance of Theatrical Stage Employees Local 10
Make the Road New York
Metro NY Health Care for All
New York Communities for Change
New York State Nurses Association
New York State AFL-CIO
New York State Alliance for Retired Americans
New York State Labor Religion Coalition
New York State Public Employees Federation
New York State United Teachers
New York Working Families Party
Open Buffalo
Peace Action
SEIU 32BJ
Statewide Senior Action Council
Standing Up For Racial Justice SURJ Buffalo
Strong Economy For All Coalition
Teamsters Local 264
Valley Community Association
VOCAL-NY
Western New York Council on Occupational Safety and Health