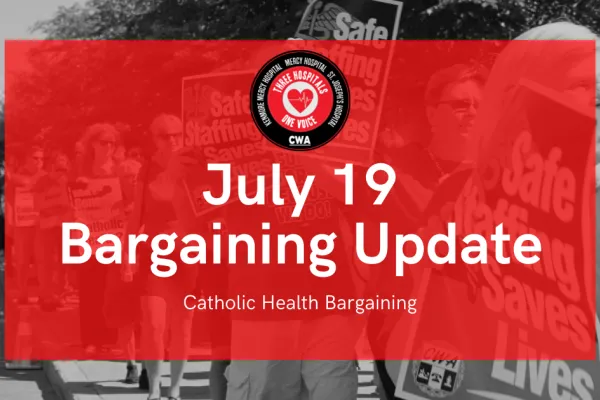 Click here to download a PDF copy.
CHS management has made no movement on our core demands: safe staffing, competitive pay, no concessions on benefits, and creating a master contract.
On Tuesday, the union finally received a proposal on Paid Time Off and Staffing Incentives, both pieces of the financial package.
We talked through the issues related to Union Representatives being allowed to sit in on interviews with QA. CH took the position that only Mary Miller interviews the employees and that the notes are not shared with Human Resources. Root Cause Analysis is done once the HR process has been completed
The Union asked a number of clarifying questions on issues such as leave of absence, Weather Emergency, And State of Emergency. CH has not even discussed mandating COVID vaccination.
We gave them a counter on Bereavement.
We have an agreement in principle on Transitional Duty. We are close on Bereavement and Corrective Action.
Finally, we had a lot of discussion on the Agreement language in front of the whole committee.
Mercy Local Bargaining Update: On Friday we had Mercy Site bargaining and we agreed to cafeteria discounts current contract, health and safety committee with minor changes and 15- minute handoff which will standardize the current practice of 15 minute hand off for Maternal Child, Med/Surg and Critical Care nurses (excluding ED).
Questions? For Mercy and Kenmore members call Local 1133 at (716) 828-1133 and St. Joes members call Local 1168 at (716) 639-1168.