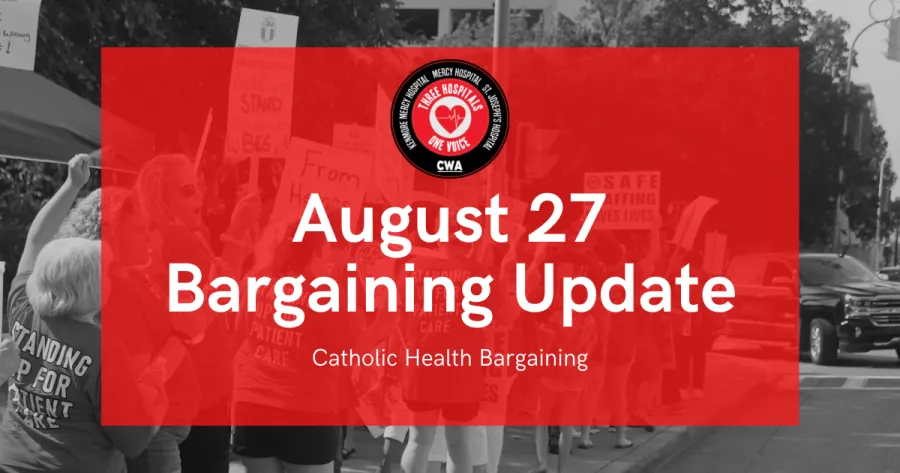 Click here to download a PDF copy.
On Tuesday, August 24 the Union and Catholic Health bargaining committees resumed negotiations after a one-week break. We are now meeting at a new location at the Gateway Office Building at 3556 Lakeshore Road, right across from the Ford Stamping Plant. We were greeted on our first day by the union Fat Cat who was at the entrance to the building!
We got off to a slow start on Tuesday due to our move. Catholic Health presented us with a proposal on Agreement. It is clear that Catholic Health wants separate expiration dates for our 3 hospitals and has no intention of doing joint bargaining again.
We also received a proposal on the RN Salary scale and a proposal for a recruitment/retention bonus for night shift critical care float employees. We have spent time talking about job qualifications and the importance of creating a career ladder within our bargaining units at Catholic Health.
On Wednesday we covered several topics including Transitional Duty, Bereavement Leave and Corrective Action to which we essentially agreed. The Union presented a counter proposal on Disability and Workers Compensation, and we are very close to resolving that issue as well.
We spent time talking about issues related to precepting and training. Catholic Health is planning a total revamp of the program and will resume the preceptor training classes. They conveyed the need for employees to help with the training of new employees, but we know there are problems related to precepting and training that need to be corrected first. We also proposed an increase in preceptor pay.
On Wednesday, 700 members and community supporters showed up Wednesday for our picket outside Mercy! This is the kind of message we need to send Catholic Health to move on our core proposals and work with us to fix the staffing crisis. We need to keep up the pressure!
For more details, come to our Bargaining Update Meetings! Get your questions answered!
Knights of Columbus
261 S Legion Dr, Buffalo
Tuesday 8/31 @ 3:30pm, 7:30pm
Wednesday 9/1 @ 7:30am