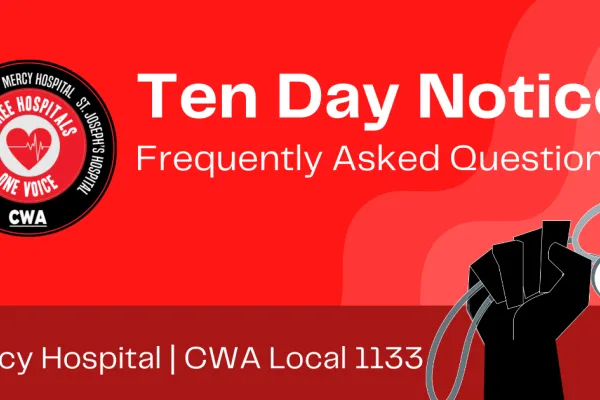 Has the 10 Day notice been submitted to the Hospital?
Yes, the 10-day notice of a strike has been given to Mercy Hospital management today for a strike on October 1, 2021 at 6am. 
Why has a notice to strike been given to the Hospital?
A 10-day notice has been given to the hospital for a few reasons:
The bargaining committee has not made progress of substance on our main bargaining priorities and the Hospital has a number of concessions still on the table.

Mercy Hospital employees are currently working under horrific conditions in the Hospital and senior administration has shown no willingness to acknowledge or work to resolve these issues. 
Will we definitely go on strike on October 1, 2021 at 6am? 
All CWA 1133 Union Members should plan to be on strike on 10/1/21 at 6am.  The bargaining committee will continue to bargain around the clock, but at this moment in time we are not optimistic that a strike can be avoided.
What will my picket duty be?
The Picket Committee is meeting on Wednesday evening to finalize picket duty and assignments.  We will have an official picketing committee update out towards the end of this week.
I missed prior updates about Strike Pay and Health Insurance. Where can I get this information?
www.safestaffingbuffalo.org/strike-info
When will I get forms to fill out for strike pay and health insurance?
The first round of CWA Defense Fund forms will be distributed tomorrow by our mobilizers.
I still have questions about Unemployment while on strike. Where should I go?
https://dol.ny.gov/system/files/documents/2021/01/p835.pdf
To find out more about Ul, visit labor.ny.gov. Click on "Individuals," and then on "Unemployment Assistance." There you can find links to our Frequently Asked Questions and Ul Handbook.
I am working in the Hospital on 10/1 at 6am.  Should I leave my assignment?
Yes, we are asking all union members to leave the Hospital at 6am on October 1.  Catholic Health will be required to have a plan for when we go on strike.  Catholic Health will either have to move patients or have employees in the Hospital to take care of the patients.  
We do not want any patient to be harmed as a result of our strike and have formed a Patient Protection Committee in the event of a patient emergency. If you wish to serve on this committee, please contact the union hall at 828-1133.
How will Catholic Health staff the Hospital?
We know that Catholic Health has contracted with Huffmasters to staff the Hospital.  We are not sure if Catholic Health will be able to fully staff the Hospital in this labor market or if they will scale down services.
I have additional questions. Who can I speak to?
When will you be having a meeting? I would like to attend a meeting.
Thursday 9/23 at 7:30pm - Town Hall Phone Call: 1-855-840-6970

Tuesday 9/28 at 3:30pm/7:30pm - Knights of Columbus

Wednesday 9/29 at 7:30am - Knights of Columbus