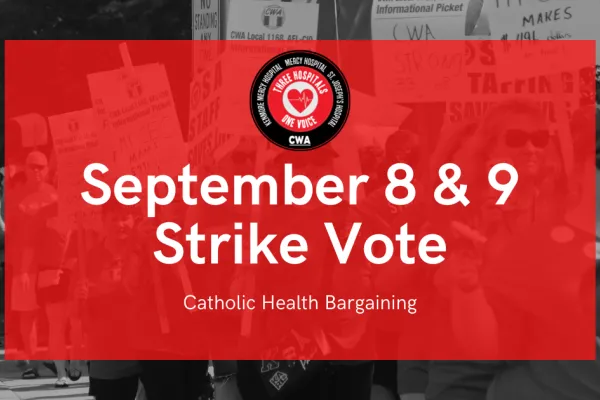 Click here to download a PDF copy.
Wednesday, September 8 & Thursday, September 9 | 6:30am - 8:30pm both days
Knights of Columbus, 261 S. Legion Dr., Buffalo
On September 8th and 9th, we will be holding a strike authorization vote.
A strike vote does not mean we will strike.
We feel that we must have this vote because of the poor package on the table, and because of the long list of unfair labor practices being committed by the Hospital and Catholic Health.
A strong YES vote is a sign of solidarity in support of your Union Bargaining Team. WE MUST ALL cast a vote to prove to Mercy Hospital we are here to fight together for a strong contract.
A high YES vote will send a clear message to management.
Absentee ballots will be issued to eligible voters under these circumstances only:
Voter will be out of town on both days of election

Voter is temporarily disabled and unable to go to the polls

Voter has an event of a family emergency
Proof of circumstances will be required. Decision as to whether or not an absentee ballot is issued rests with the Election Committee. Member must make written request for absentee ballot no later than Sept 1st. Member may call the Union Office to set up time with an Election Committee member to receive their ballot at the Union Office.Absentee ballot must be received in the mail by September 7th.